The OSC Spectrum Imaging department is a state-of-the-art facility with friendly and professional staff dedicated to making your visit a comfortable one. Our open 1.2 Tesla MRI machine accommodates large up to 500lbs and claustrophobic patients. For your convenience, we have same week appointments available from 6:40 am to 5:00 pm, with results as soon as 24 hours in most cases.
Spectrum Imaging Oklahoma
Magnetic Resonance Imaging (MRI)
Unlike an x-ray, which only takes a picture of bone, an MRI provides an unparalleled view inside the human body and allows your doctor a highly detailed look at soft tissue, ligaments, tendons, and bone.
**IMPORTANT**
If You Have A Pacemaker We Can Not Scan You Here At Spectrum Imaging.
However We Will Assist You In Finding Another Location.
You be may not be able to have an MRI if you have aneurysm clips, stents, coils, valves, implanted monitors, neurostimulators, ear implants, or if you are pregnant. Contact your physician or our office with any questions.
Preparing For Your Appointment
Please arrive 20 minutes before your appointment to fill out paperwork
We recommend wearing comfortable clothing that contains no metal (zippers, snaps, buttons)
We offer gowns and shorts if needed
Please remove any piercings before your appointment
There are no diet restrictions, you can eat, drink, and take your medications as normal
We recommend taking any pain medication 1 hour prior to your exam
We do offer Valium (a sedative) to our claustrophobic patients. Please contact us prior to your visit to schedule for this sedative. You will also need to arrive 1 hour prior to your scheduled exam and have a driver in order to leave our facility after your scan
MRIs are covered under most insurance plans but in the event of no coverage or high deductibles, we offer a cash pay price of $450 for without contrast and $575 with contrast.
Your MRI will take approximately 30 minutes for each body part we scan.
We offer headphones to listen to the radio while being scanned.
Your doctor should receive the results as early as 24 hours, but please give your doctor additional time to review the results.
While your chances of a reaction to the injection of gadovist are very low, please contact your regular physician or ordering physician immediately if you notice any redness/swelling at the site of the injections.
If you need a CD, please give us 24 hour notice.
You will receive only one bill for your MRI. The radiologist fee is included in the price of the exam.
For more information about MRI's ask a helpful staff member for a brochure today.
Need to ask a question or fax in information? Call us at (405) 447-6000 or send your fax to (405) 364-0278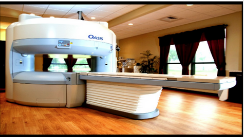 Location: 825 E Robinson St Norman, OK 73073
Tuesday

6:40 am - 5:00 pm

Wednesday

6:40 am - 5:00 pm

Thursday

6:40 am - 5:00 pm